Independent Contractor Self-Assessment
WHEN TO USE:
If your company uses independent contractors, use this self-assessment tool to analyze your practices based on the IRS test factors. This will help you determine if any adjustments need to be made in the way you are treating your contractors.

FEATURES:
Contractor questionnaire that allows you describe your practices for each test factor
Explanations of each factor so you know typical situations that weigh in favor of contractor status
A classification worksheet that gives you a simple and clear overview of your worker status
Like to save money?
Check out our Independent Contractor Bundle!

---
Related documents:
Back to forms
---
Ready for the next step? These are our favorite services that help you get up and running…quick:
Bookkeeping/Accounting
We fell hard and fast for Freshbooks. The simplest online accounting we have found (and we use)–gets you up and running in minutes.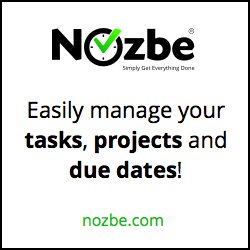 Project Management
Simply get things done with Nozbe's easy to use project management software. Easily integrate your personal and business life on the go–alone or with a team.
Email Management
As a startup founder, your time is precious. Sanebox is great for email declutter and managing distractions.
---
How we choose network services:
Many of our network services are companies we use ourselves because they are the simplest services we have found, with the features a startup needs, and clean, intuitive interfaces that allowed us to get set up and going fast. These are services that never make us grit our teeth and unfailingly have exceptional customer service. The ones we don't use are recommended by our customers and are painstakingly vetted to assure they meet our requirements. Check out all of our network services here.
Know another great startup resource?
Let us know
and we'll check them out.